OPERATION HOURS
Daily 7.00am to 10.00pm
Off-Peak
Monday to Friday: 7.00am to 6.00pm
Saturday: 7.00am to 3.00pm
$7.49 per court per hour
Peak
Monday to Friday: 6.00pm to 10.00pm
Saturday: 3.00pm to 10.00pm
Public Holiday: Whole day
$9.63 per court per hour
Members' Day
Sunday: Whole day
$6.42 per court per hour
Closure For Club Team Training
| | |
| --- | --- |
| Monday & Friday | 7.00pm to 10.00pm (6 Courts) |
Closure For Junior Training
| | |
| --- | --- |
| Monday to Friday (except Thursday) | 3.00pm to 5.00pm (6 Courts) |
| Tuesday | 6.00pm to 9.00pm (3 Courts) |
| Saturday | 8.00am to 2.00pm (3 – 6 Courts) |
| Sunday | 12.00pm to 5.00pm (3 – 7 Courts) |
Bookings / Enquiries
Please call Sports Desk at 6885 0677
Note
Bookings can be made at the Sports Reception (SC) up to seven days in advance on a first-come-first-served basis.

There shall be no cancellation past 12:00pm one day before the actual booking.

All players are to wear either Badminton shoes or court shoes with non-marking soles, failing which they will not be permitted to use the courts.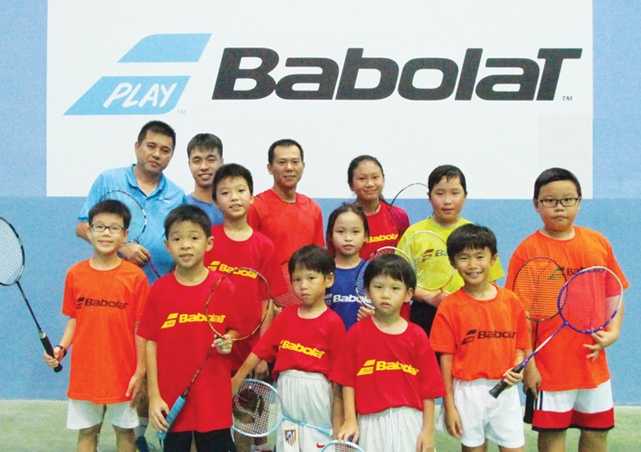 CSC BADMINTON ACADEMY
Register your child for badminton training at the Academy under the coaching of qualified coaches and unleash the potential in your child.
BADMINTON CLUB TEAM SECTION TRAINING
(Selected Club Players only)
Monday & Friday
7.00pm – 10.00pm
Badminton Hall, Sports Complex (Level 2)
Section Membership Fee: $48.15 (Incl. GST)
Courts & shuttlecocks provided
Please contact Dareld at 6885 0673 or Dareld_Tan@chineseswimmingclub.org.sg for more information.
The classes, trainings and activities might be postponed or cancelled, subject to further directives and measures for COVID-19 from the Multi-Ministry Taskforce and/or SportSG.